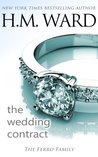 The Wedding Contract
by
H.M. Ward
My rating:
5 of 5 stars
Sky is a twenty something business owner who is always trying to prove herself to her parents especially her judgmental mother. She finally has some success as a photographer when in walks Nick Ferro to wreak havoc on her life. Nick begins to steal her clients and sabotage her at every turn. When they both get hired to shoot the same wedding a week of drama and chaos unfold. Sky needs this shoot to go well so she can save her studio and her pride.
I am definitely an H.M. Ward fan and have read several of her books. I took a shot and requested an ARC for this book and was chosen by the author in exchange for an honest review.
Ms. Ward has said on her Facebook page that this book is different from her other Ferro Family books. It's not all hot sex and crazy mystery around every corner, this one is in a class by itself for sure.
Sky and Nick's story is sweet and endearing it comes together really nicely. I found Sky to be an exceptional heroine and thought she gave Nick as good as she got. Going back at him and letting him know that just because he was a sexy, beautiful guy she wasn't going to take his attempt to steal her business laying down. There were funny moments involving a locked hotel room and a jump out a window and another involving a shower curtain dress that I could not stop smiling about. I will leave you to read the book to find out further about those bits of entertainment. Sky and her friend Sophie's relationship is sweet and fun to read. The way Sky handles her mother is also a hoot.
This is a great addition to The Ferro Family series of books and I wouldn't mind hearing more about Nick and Sky in the future.
View all my reviews